An Enchanting Oasis In The Heart Of Tulum
Nestled amongst the jungle trees and steps away from the beach, Alaya Tulum is the most enchanting hotel. With intimate social spaces, treehouse guest rooms and a beautiful Yoga shala, Alaya is perfect for those looking for a quiet oasis in the heart of Tulum's beach.
 Ideal for yoga and wellness retreats, guests can enjoy private beach access and wellness activities that promote inner peace. Sleep well in villas inspired by the raw natural beauty of Tulum and awaken to views of the crystal-blue ocean. Experience the sheer magic of Tulum and embark on a journey to Alaya.
Book directly with us and enjoy extra perks & benefits

Best Rate Guarantee

Free Parking

WIFI

Daily Yoga

Access to Art Park

Access to Jungle Gym

Holistic Activities

Welcome Drink

Ma'alob K'iin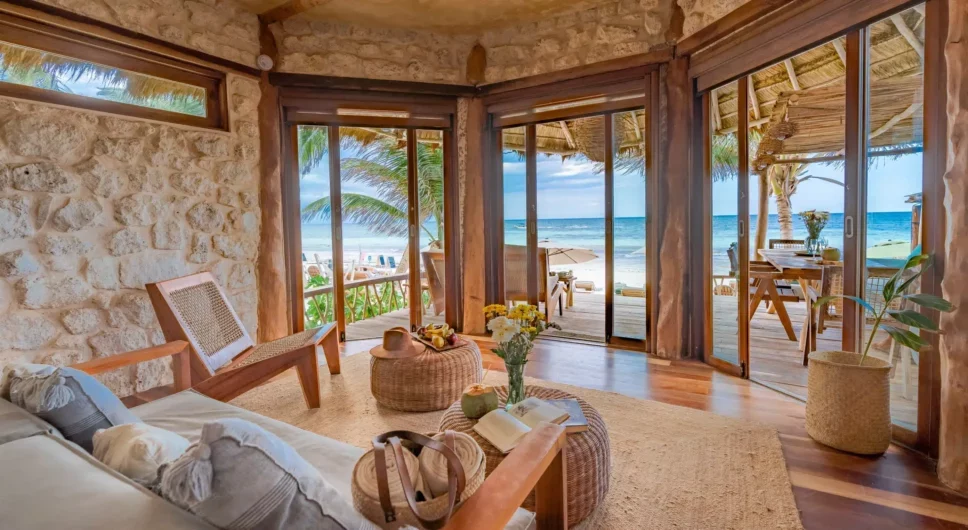 CASA ALAYA OCEAN FRONT
________
Casa Alaya is one of only a handful of private beachfront homes in Tulum. Designed and built by David Graziano, one of the driving forces behind the rise of Tulum as a coveted destination for luxury travelers. Named after his daughter Alaya, it is also the namesake of the luxury boutique hotel on which the property sits. La Casa is consistently rated amongst the best hotels in Tulum on TripAdvisor including The 2019 Travelers Choice Award. The first-class service and amenities that have made it such a success extend to Casa Alaya, this sets it apart from all other private residences in Tulum. Built entirely of locally sourced materials, fitted with custom hand-crafted furniture and finishes, this exquisitely unique property served as Mr. Graziano's primary home for several years. It features 2000 square feet of interior space, there are two bedrooms with a sleeping loft in the master bedroom hovering over the master bed and wall of double height windows. The sleeping loft also doubles as an office with a half bath all looking out to the horizon line with 180° views. There is approximately 1000 square feet of private outdoor space, consisting of a beachfront deck with a dining table for 10, day bed and lounge chairs, Master Suite terrace and yoga/massage studio on the third floor. The open layout ground floor combines a bespoke kitchen featuring stainless steel appliances, cooking and dining island with the living room and beachfront deck as well as full hotel services. Casa Alaya's design embodies the true essence of Tulum and its local craftsmanship.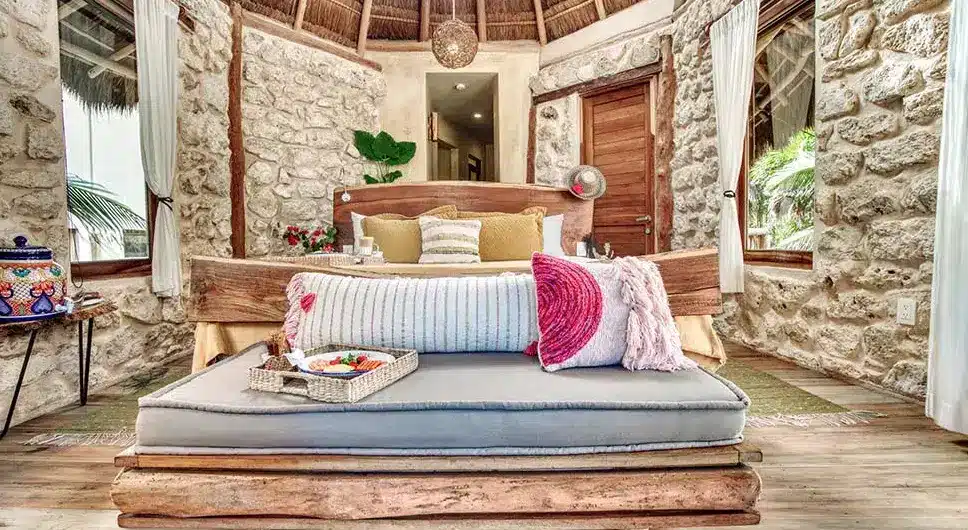 OCEAN FRONT SUITE
________
Retreat to your one-bedroom cabin, just steps from the azure sea. Equipped with finely handcrafted wooden furniture, a sofa, handmade wood flooring and a comfortable centrally located king size bed that directly faces the ocean, wake up to the beautiful sunrise and refreshing breeze of Tulum. These suites feature a private bathroom with a handcrafted wood sink and a pressure rain shower head. The shower walls are made with marble mosaic tiles and the floors are made with wood planks for a spa-like experience. Enjoy your private terrace, perfect for morning yoga and meditation.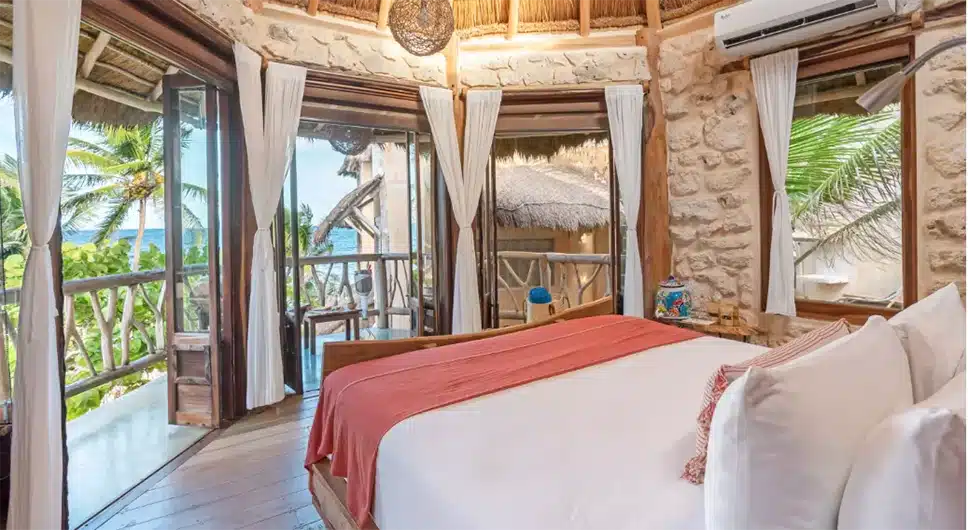 OCEAN VIEW SUITE
________
Stretch out in this double suite featuring two full beds fitted with luxury linens, handmade wood flooring and oversized windows to enjoy the radiant sunlight. Just 45 meters from the sea, these eco-chic accommodations are perfect for families and groups to enjoy the view while looking out the wood and glass doors that lead to the outdoor deck. Relax in the spacious bathrooms designed with a marble mosaic shower with pressured rain shower head and wood planked floors.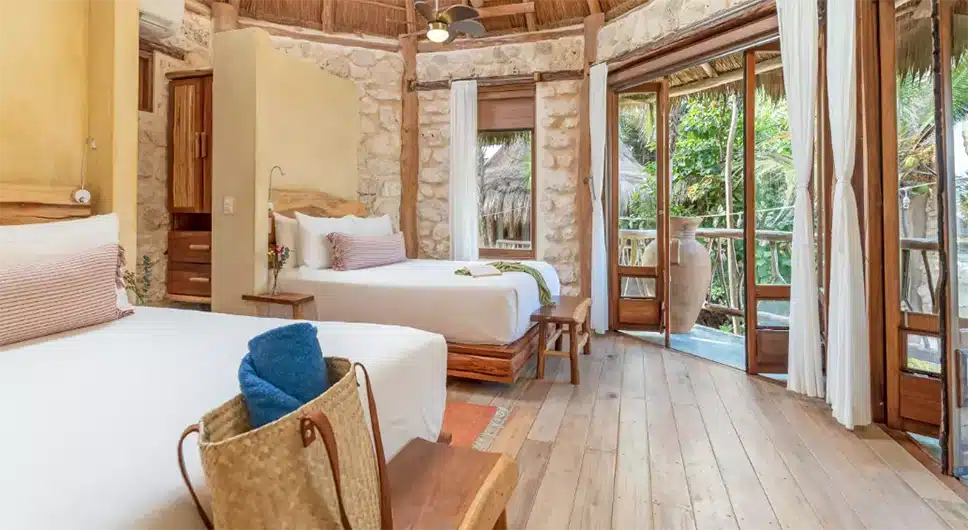 PARTIAL OCEAN VIEW DELUXE DOUBLE
________
These elegantly designed suites have partial ocean view just 45 meters from the sea. The spacious and unique indoor/outdoor deck has a large sofa with enough room to seat 5 people. These suites feature two oversized full beds – each bed has its own closet. The bedrooms have beautiful handmade wood floors and oversized windows to enjoy the radiant sunlight. The bathrooms are overly spacious and are equipped with a separate toilet room and a separate shower room with changing area. The shower has marble mosaic walls, pressured rain show heads and wood planked floors. The sink counters are mosaic marble with handcrafted wood sinks and an oversized mirror. Enjoy your view while looking out of your room through two walls of classic bi-folding wood and glass doors.
FAMILY VILLA
________
With stone walls, natural Mexican architecture and handmade wood furnishings, these villas feature one queen bed in the front bedroom and a small separate sleeping area with two single beds arranged in a classic bunk bed style. Ideal for families up to four, entertain and dine on the 500-square-foot covered deck separated by a glass wall that allows the outside in. Enjoy the luxurious bathroom with high-pressure rain shower heads, marble mosaic walls, and wood planked floors.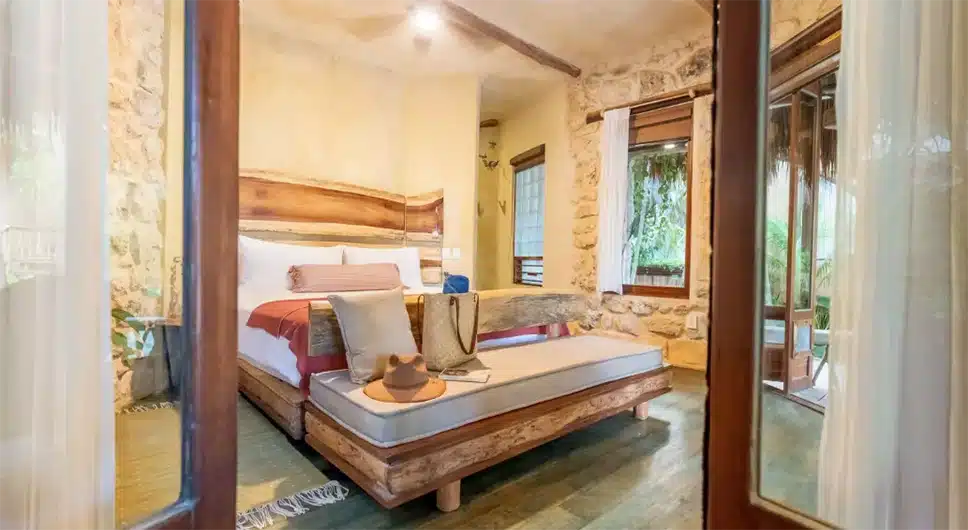 GARDEN VILLA
________
Stay in these unique villas that offer an intimate natural environment with partial ocean views. Set slightly further back on the property, enjoy garden views from the 400-square-foot covered deck separated by a large glass door that connects the outside with the inside. Sleep well in the king bed fitted with crisp linens and enjoy the luxurious bathrooms with high-pressure rain shower heads, marble mosaic walls and wood-planked floors for a spa-like feel.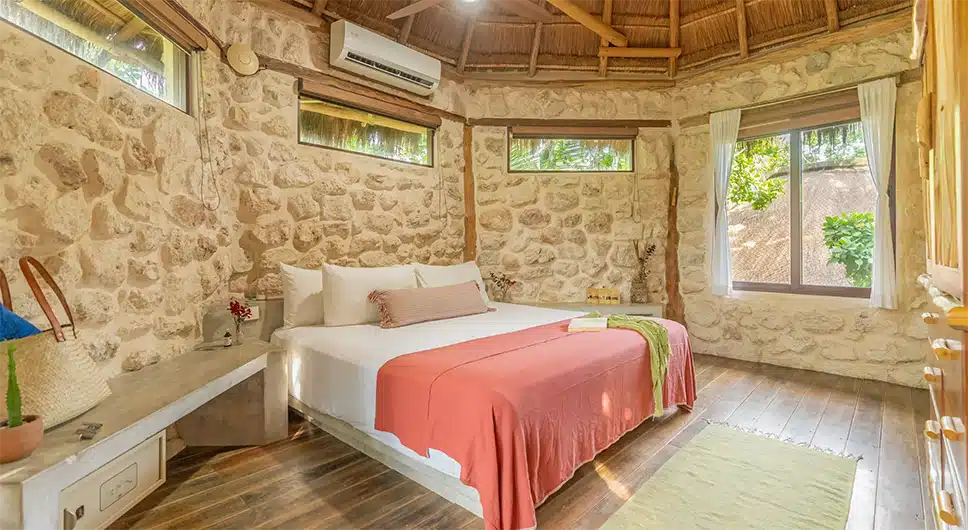 GARDEN APARTMENTS
________
Residentially styled and combining the best of the town and the jungle vibe, with a full kitchen and luxury spa-like bathroom featuring marble mosaic walls and wood planked floors, our smartly designed street-facing Alaya apartments are located on the 1st and 2nd floors of our main building. With stone walls, natural Mexican architecture, and handmade wood furnishings, the apartments feature one king bed and banquette seating for in-room dining.
Restaurant Alaya
ALAYA TULUM
Savor authentic mexican and regional flavours on this beachfront restaurant in Tulum. Relax in a natural garden setting and enjoy menus featuring locally sourced fruits & vegetables, local and fresh produce and selection of cold and hot drinks.
ACTIVITIES
_____
Connect with Unique Beach & Wellness Activities
PACKAGES
_____
Stay longer at Alaya Tulum
Book 6 or more nights and enjoy a 10% discount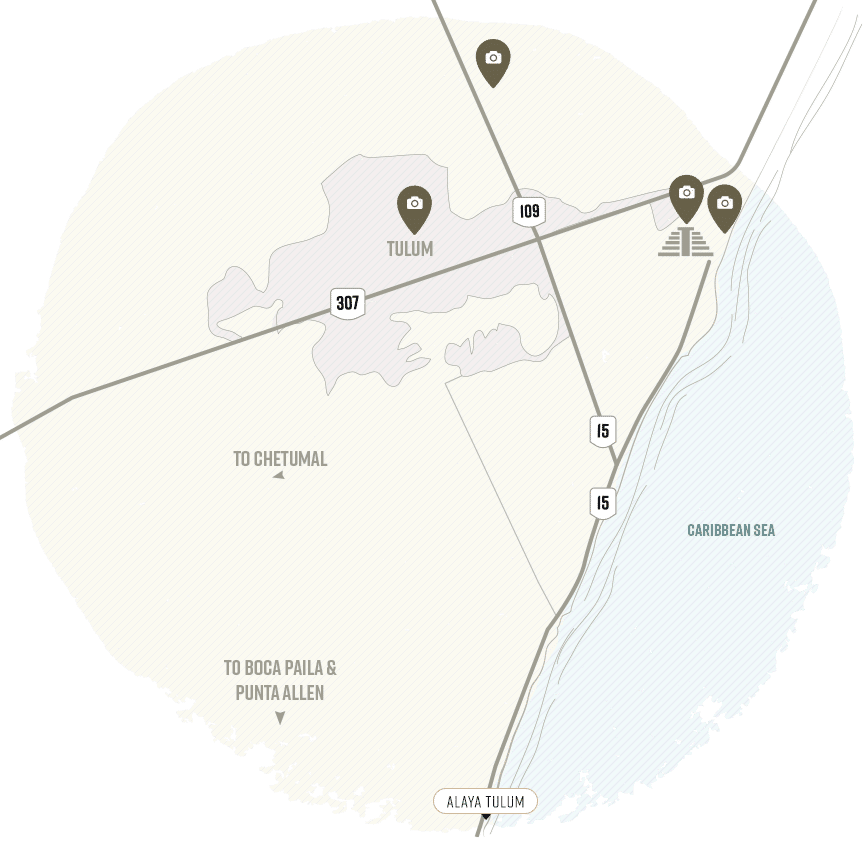 LOCATION
Alaya Tulum, A port to Beauty
and Mindfulness
Located on the Southern tip of the Riviera Maya, Mexico's most stylish beach destination offers both privacy and a diversity of things to do.